APNIC 38 Venue
The APNIC 38 Workshop week will be held from 9 to 13 September 2014 at:

Saxons Training Facilities
Level 11 300 Adelaide Street, Brisbane
Telephone: +61 7 3222 3777
www.saxons.com.au
The APNIC 38 Conference will be held at the Pullman Brisbane, King George Square from 15 - 19 September 2014.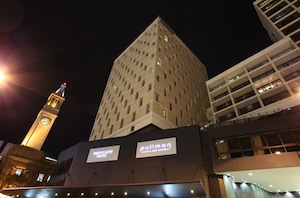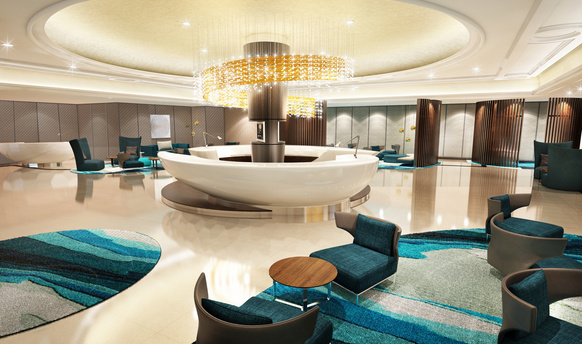 Hotels in Brisbane
We have negotiated reduced conference accommodation rates at the following hotels. This map shows the locations of all of the below hotels and their proximity to the Pullman King George Square and Saxons Training Facilities.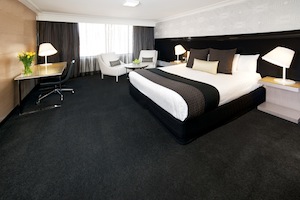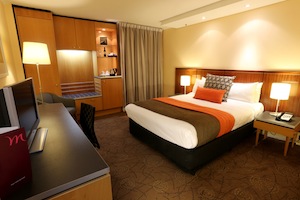 Pullman King George Square Hotel
Address
Corner of Ann and Roma Streets, Brisbane, 4000
Phone
+61 7 3229 9111
Fax
+61 7 3229 9618
Website
Pullman King George Square
Rates
Pullman Hotel
Please check here for the hotel's best available rate.

Mercure Tower
Please check here for the hotel's best available rate.

Please note that rates and room types are subject to change at any time without notice.
ACCOR Hotels is offering a 14% discount to APNIC 38 delegates at these hotels. Mercure North Quay, Novotel, and Ibis are all located within walking distance to Pullman King George Square.
Four Points by Sheraton Brisbane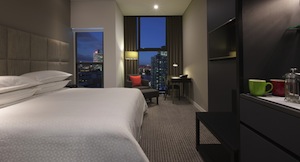 | | |
| --- | --- |
| Address | 99 Mary St, Brisbane 4000 |
| Phone | +61 7 3164 4000 |
| Fax | +61 7 3164 4001 |
| Website | Four Points Brisbane |
| Rate | AUD 215/night, including WiFi and breakfast for one; or AUD 235/night, including WiFi and breakfast for two |
| Booking link | Four Points booking |
Park Regis North Quay
Address
293 North Quay, Brisbane 4000
Phone
+61 7 3013 7200
Fax
+61 7 3236 1582
Website
www.parkregisnorthquay.com.au
Rate
AUD 185/night, single room, includes WiFi
AUD 200/night, double room, includes WiFi
Booking link
Park Regis booking
Promo code
APNIC
Oaks Festival Towers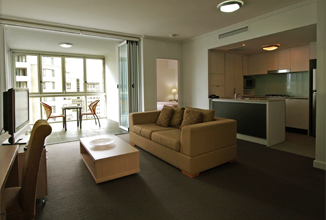 Address
108 Albert St, Brisbane 4000
Phone
1300 664 427
Fax
+61 7 3012 8885
Website
Oaks Festival Towers
Rate
AUD 179/night for 1 bedroom serviced apartment (single or twin share), includes WiFi. This special offer is available to the first 30 bookings.
AUD 249/night for 2 bedroom serviced apartment for up to 4 people, includes WiFi.
Booking link
Festival Towers booking
Promo code
APNIC38
Traders Hotel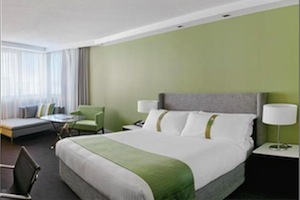 | | |
| --- | --- |
| Address | 159 Roma Street, Brisbane 4000 |
| Phone | +61 7 3238 2222 |
| Fax | +61 7 3238 2288 |
| Website | Traders Hotel |
| Rate | AUD 175/night, including WiFi and breakfast for one; or AUD 195/night includes breakfast for two |
| Booking link | Traders Hotel booking |
George Williams Hotel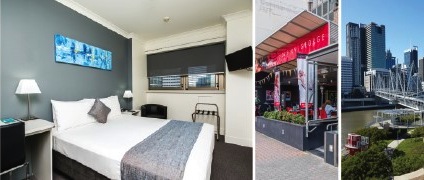 Abbey on Roma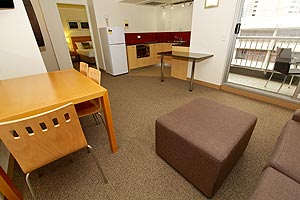 Address
160 Roma St, Brisbane 4000
Phone
+61 7 3236 0600
Fax
+61 7 3236 0333
Website
www.abbeyonroma.com.au
Rate
AUD 119/night, Standard room (minimum 5-night booking), includes in-room broadband
AUD 129/night for Standard (4 nights or fewer), includes in-room broadband
AUD 129/night Superior room (minimum 5-night booking), includes in-room broadband
AUD 139/night for Superior (4 nights or fewer), includes in-room broadband
Booking link
Abbey on Roma booking form
Visas to Australia
Visitors to Australia for a business event or conference must obtain a visa. Visitors should apply for a visa at least two months prior to the intended date of departure and four months prior for anyone with character or health concerns.
Please refer to the information provided by the Australian Department of Immigration (PDF) for full details on business visitor visa options and requirements. New Zealand passport holders will normally be granted a visa on arrival.
Online visa applications
European Union and some other European passport holders are eligible to apply online for an eVisitor visa to enter Australia. For a business event, please apply for the 'Business Stream' visa. A separate visa is required for each individual.
Passport holders from a number of other economies are eligible to apply for an Electronic Travel Authority (ETA) visa to enter Australia. Again, the most appropriate option is the Business Stream (Subclass 601) visa.
Visitor visas
Passport holders who are not eligible for an eVisitor or ETA visa can apply for the Visitor Visa, Business Stream (Subclass 600). Some passport holders are able to apply online.
If you are not eligible to apply for this visa online, you can use Form 1415 (PDF) to apply for a Visitor visa - Business Visitor Stream.
Lodging paper applications
Please refer to the Department of Immigration's list of offices around the world where you are able to lodge a paper visa application. You may refer to these offices for biometric collection services as well.
Getting around Brisbane
The Pullman Hotel is located in the heart of the Brisbane city centre.
Distances
| | |
| --- | --- |
| Brisbane Airport | 15km |
| Roma Street train station | 500m |
| Central train station | 700m |
| Southbank district | 1.6km |
Please refer to the Brisbane Airport website for transportation options to and from the Brisbane International and Domestic Airports. Taxis are available from the airport, located outside baggage claim.
Airtrain voucher
Taxi fare from Brisbane International Airport to the Brisbane central business district is approximately AUD 50. Alternatively the Airtrain is a fast and easy way to reach the city while avoiding peak hour traffic. If you are staying at the Pullman hotel, your stop is Roma Street station, located 500m from the hotel.
We are offering a discount voucher to use the Airtrain service to APNIC 38 delegates. Please present this letter at the Airtrain station at the airport when purchasing your ticket. For more details, please refer to the Airtrain website.
Door to Door Airport transfer
You can book your transfer from the airport to the hotel online with Con-X-ion.
Public transport
There are train, bus, and ferry services available to all areas of Brisbane's city centre and surrounding suburbs. Please refer to the Translink website for timetables and other information.
Public transport services are cheaper with a Visitor Go card, but paper tickets can be purchased at train stations, and aboard buses and ferries with correct change. Go cards can be purchased at news agents and some train stations.
Visit Brisbane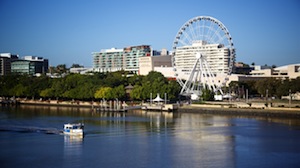 View of Southbank from the Brisbane River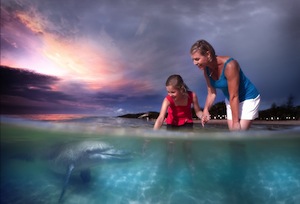 Playing with dolphins at Tangalooma Resort
Here are some suggestions for activities in sunny Brisbane.
Brisbane Greeters
You can book a friendly passionate Brisbane Greeter, a local who can help show you around the city and its highlights.
Shopping in the city
Local attractions
City tours
Local information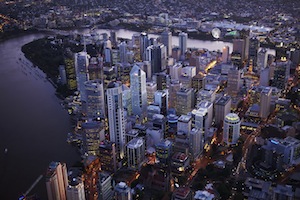 An aerial view of the Brisbane CBD
We've compiled some useful information for travelling to Australia.
Weather
September average temperature is max. 24°C, min. 13°C
Official language
English
Currency
Australian dollar (AUD)
Notes: $100, $50, $10, $5
Coins: $2, $1, 50c, 20c, 10c, 5c (100 cents = 1 dollar) Prices are rounded to the nearest 5c.
Credit cards
Mastercard, Visa, American Express, and Diners Club are accepted by most outlets, but a surcharge will apply in some shops when using American Express and Diners.
Power outlets
240V, Type I
Emergency
000 for Ambulance, Police, or Fire
Taxis
Black and White 133 222; Yellow 131 924
Tipping
Service with a smile is the rule of thumb in Australia, and tipping is always optional. If the service is worthy of a tip, it will be appreciated.
Shopping in the city
Most shops in the CBD trade seven days a week, during these hours:
Monday - Thursday: 09:00 - 17:30
Friday: 09:00 - 21:00
Saturday: 09:00 - 17:30
Sunday: 10:00 - 16:00
www.bnecity.com.au
Goods and Services Tax
The Goods and Services Tax (GST) is a broad-based 10% tax included in the shelf price of most Australian goods and services. The Tourist Refund Scheme allows international travellers to claim a GST refund (subject to certain conditions) on some goods purchased in Australia. The refund applies only to items worn or goods taken on board as hand luggage when leaving the country. Please visit the Customs website for more details.