APNIC Fellowship Program
Congratulations to the APNIC 38 Fellows. APNIC 38 Fellowship is sponsored by:
Youth Fellows
| Track | First Name | Last Name | Gender | University |
| --- | --- | --- | --- | --- |
| Conference | Jamie | Rodgers | Male | Queensland University of Technology (QUT) |
| Conference | Alistair | Chapman | Male | Queensland University of Technology (QUT) |
Fellows
| Track | First Name | Last Name | Gender | Economy |
| --- | --- | --- | --- | --- |
| Conference | Chhabi Lal | Sapkota | Male | Nepal |
| Conference | Elvin | Prasad | Male | Fiji |
| Conference | Chitoor | Rajaseskar | Male | India |
| Conference | Jose Paolo | Solano | Male | Niue |
| Conference | Sarah | Escandor-Thomas | Female | Phillipines |
| Conference | Mavis | Tom | Female | Solomon Islands |
| Conference | Pauline | Laua | Female | Papua New Guinea |
| Conference | Sereana | Narayan | Female | Fiji |
| Workshop | Ranith | Yim | Female | Cambodia |
| Workshop | Willie | Kovingre | Male | Papua New Guinea |
| Workshop | Farhad | James | Male | Solomon Islands |
| Workshop | Sifat | Sadia | Female | Bangladesh |
| Workshop | Gregory | Ofia | Male | Solomon Islands |
| Workshop | Tele | Pelosa | Male | Tuvalu |
About the program
APNIC (Asia Pacific Network Information Centre) is a membership-based, not-for-profit organization that serves the region's Internet community. It is one of five Regional Internet Registries (RIRs) charged with ensuring the fair distribution and responsible management of IP addresses and related resources. These resources are required for the stable and reliable operation of the Internet globally.
APNIC is also actively involved in the development of Internet infrastructure - both human and physical - throughout the region. This includes providing training and education services, supporting technical activities such as root server and Internet Exchange Point (IXPs) deployments, and collaborating with other regional and international organizations in the Internet community.
The APNIC community meets twice a year for policy development, information sharing, training and networking – both professional and social. The first APNIC event of each year is held as a conference track of the Asia Pacific Regional Internet Conference on Operational Technologies (APRICOT) and the second is held as a standalone APNIC conference.
To ensure the Asia Pacific Internet community is well represented at these important events, APNIC offers a limited number of Fellowships to its members in the region's developing economies. The Fellowship program makes a special effort to promote the full participation and involvement of women from the Internet community to ensure gender equality at the conferences and in the APNIC policy development process.
Fellowship goals
APNIC's Fellowship program has five main goals:
Raise awareness about APNIC and its services
Foster greater understanding of, and participation in, the APNIC policy development process
Provide an opportunity for colleagues to network with peers in the industry with similar technical interests
Identify and foster the professional development of members of the Asia Pacific Internet community from emerging and developing economies
Demonstrate APNIC's commitment to capacity building
Fellowship package
Applicants selected for an APNIC Fellowship program will receive the following support:
An economy class return air ticket to the conference or workshop week
Twin shared hotel accommodation with breakfast for the duration of the conference or workshop week
A cash allowance not exceeding AUD 100
Complimentary registration to the conference or workshop week
Complimentary attendance to all the conference or workshop social events
Selection process
A selection committee comprising APNIC staff from various units carefully evaluates all the applications. The committee then selects the applicants that it believes are best suited for the Fellowship, taking into consideration a desire to provide opportunities to individuals from a diverse range of organizations and geographical locations within the APNIC service region.
The decisions of the selection committee are final and the selected applicants are informed individually. A list of selected Fellows is then announced on the APNIC Conference website.
(Applicants who are not selected to receive a Fellowship award for the current APNIC Conference are eligible and encouraged to apply for future APNIC Conference.)
Key dates for APNIC 38 Fellowships
| | |
| --- | --- |
| Monday, 19 May 2014: | Applications open |
| Friday, 13 June 2014: | Applications close at 23:59 (UTC +10) |
| Monday, 23 June 2014: | First round offers announced |
| Friday, 27 June 2014: | Confirmation of first round offers close at 23:59 (UTC +10) |
Selection Criteria
Citizens of an Asia Pacific region Least Developed Country (LDC) or Small Island Development State (SIDS), as per the UN definition
Have yet to attend in person an APNIC Conference
Demonstrated ability to utilize the experiences gained from the fellowship experience to encourage local interest in APNIC
Good understanding of the importance of APNIC's role in managing critical Internet number resources in the Asia Pacific region
Interest to contribute to the APNIC policy development process
A willingness to support APNIC's capacity building program
A willingness to contribute to APNIC's Social Media and fellowship alumni network
Requirements
Valid passport
Any other travel documents required by your economy, transit economy, and/or host country
Visa and transit visa eligibility and requirements. Fellows are responsible for obtaining all the necessary visa and related travel documents, upon request, APNIC will provide a formal invitation letter to attend an APNIC Conference for which a fellowship grant is provided.
Travel
All flights will be arranged and booked by the APNIC travel agent and will only be purchased after all the necessary travel documents are obtained, including visas and transit visas, and a scanned copy of these documents are provided to APNIC.
All tickets will be purchased based on the most direct route and least expensive fare. Fellows cannot create their own travel route or reroute or extend any itinerary booked by APNIC.
APNIC will not be liable for any loss or expenses incurred by an applicant while arranging the necessary travel documents and obtaining required visas from the relevant country authorities.
APNIC will not be liable for any refusal to grant a visa by any relevant economy authority.
Allowances
APNIC will book and cover the cost of a twin shared hotel room either at the conference venue or within close proximity.
Any hotel surcharges e.g. telephone calls, room service, laundry, massage, movies, etc., are the responsibility of the Fellow. It should be clearly noted that Hotels may request a credit card or cash as deposit from a Fellow to guarantee surcharge expenses.
A cash allowance not to exceed AUD 100 for the entire event will be provided to offset reasonable expenses such as ground transport and other incidentals not provided at the conference. This allowance will be paid upon the arrival of the Fellow at the conference venue.
Reporting and Responsibilities
Fellows must attend all sessions and be present at the conference from start to finish every day.
Fellows must meet with the mentors for daily briefings at an agreed place and time.
Fellows are required to submit a summary report to APNIC within two weeks of the end of the Conference. More details on the length and focus of the report will be provided at the conference.
Fellows are also required to complete conference and Fellowship surveys.
Laws, Regulations, and Legislation
As a Fellow to APNIC conference, it is your responsibility to comply with all local laws, regulations, and legislation of the country or countries to which you will travel. These include immigration and customs.
APNIC is a not-for-profit organization incorporated in Australia and must therefore comply with all the laws, regulations, and legislation of Australia.
APNIC is collecting personal information from you in order to process your application for APNIC Fellowship. Without this information, APNIC may not be able to process your application.
APNIC will publish your name, country, and organization name on the public website and may also publish on APNIC Social Media.
Health and Safety
Fellows are responsible for maintaining their personal health and safety during the conference.
APNIC strongly suggests that Fellows seek guidance from their respective health authorities for any potential health risks in the city to be visited. Fellows should receive, at their own expense, all recommended vaccinations prior to travelling.
APNIC is not responsible for the personal health and safety of any Fellow.
Obtaining and paying for any travel insurance is the sole responsibility of the Fellow.
Upon request, APNIC will assist in claims processing but APNIC will not pay nor apply for the claims.
APNIC is not responsible for the loss or damage of any personal belongings.
Privacy Policy
APNIC has a privacy policy that contains information about:

How you may complain about a breach of the Australian Privacy Principles by APNIC, and how APNIC will deal with such a complaint;
How you may access and seek the correction of the personal information held by APNIC about you.

Please note, while it is unlikely your personal information will be disclosed to any overseas recipient, some of your personal information may be stored by APNIC using computer servers located outside Australia.
Deferment
If a Fellow is unable to attend the conference due to unforeseen circumstances, upon a Fellow's written request, APNIC may in its discretion recommend the Fellowship Committee to consider the Fellow for the next APNIC Standalone conference.
Failure to Comply with Terms and Conditions
Please note that if a Fellow fails to comply with any one of the above-mentioned terms and conditions of the APNIC Fellowship Program, APNIC reserves the right to determine the appropriate course of action. This includes but is not limited to:

Terminating a fellowship prior to the conference;
Early departure from the conference;
Covering costs for all expenditures.
APNIC Fellowship Statistics
Here is a graphical overview of our past APNIC Conference Fellows.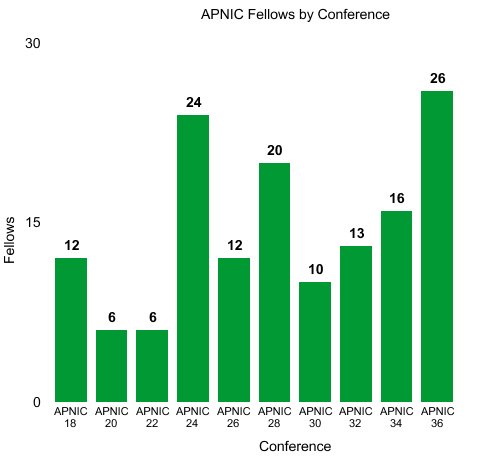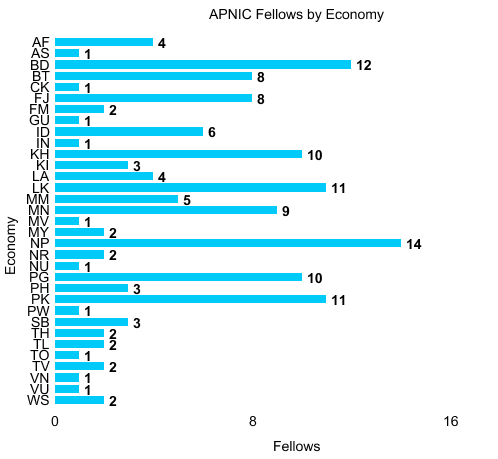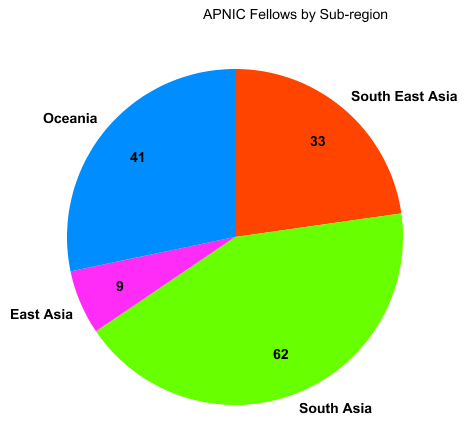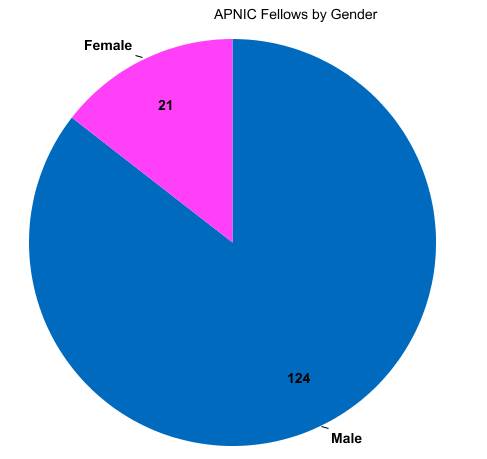 APNIC Fellowship Frequently Asked Questions
How do I apply for an APNIC Fellowship?
The online application system is the only method that you can use to apply for an APNIC Fellowship. All information requested in the application must be provided in the online application form.
Do I need to re-apply for each round?
Yes. If you apply for an APNIC Fellowship and are not successful, you must complete and submit a new application for the next APNIC standalone conference.
How many times can I receive fellowship support?
APNIC Fellowships are provided once, to provide an opportunity for new attendees. We encourage APNIC community members who are not able to attend conferences to attend the APNIC Regional Meetings and APNIC Training sessions.
If my application is rejected, can I apply again?
Yes. Applicants who are not selected to receive an APNIC Fellowship for the upcoming APNIC Conference are encouraged to apply for a future APNIC Conference.
How will I know if I received a fellowship?
All successful applicants are published on the current APNIC Conference website, approximately 10 days after the online application period closes. APNIC Fellows will also receive an email and offer letter when the list of Fellows is published.
How long do I have to accept the offer?
Successful APNIC Fellows are asked to notify APNIC within a week, or according to the deadline mentioned in the offer letter.
What happens if I do not accept the offer by the deadline?
If a successful applicant does not accept the APNIC Fellowship by the deadline, the spot will be given to the next eligible applicant on a stand-by list.
What does the offer cover?
APNIC Fellowships cover return economy class airfare from your nearest airport to the Conference venue, twin shared accommodation, a cash allowance, and registration for the event. Please note that fellows will share a room with another fellow of the same sex.

How will my travel be covered?
APNIC will book airfare and accommodation. Any additional expenses are the responsibility of the Fellow.
How does the cash allowance work?
All APNIC Fellows are eligible to receive a cash allowance for up to AUD 100. The allowance will be provided in Australian dollars (AUD) upon arriving at the APNIC Conference venue.
Do I need insurance?
APNIC strongly encourages Fellows to discuss insurance options with a local travel advisor when travelling to APNIC Conferences.
Can I change my travel route and/or extend my stay?
No. APNIC Fellows are not able to make changes to the travel route provided or to extend their stay.
Can I get an APNIC Fellowship to attend both the Workshop and Conference?
To enable more applicants to receive a Fellowship offer, we ask successful Fellows to select either the Workshop or Conference week.
What travel documents are needed?
All Fellows must have:
Valid passport
Travel documents as required by your economy of origin
Visa may be required for entry to the host economy
Transit visa may be required to connect through some cities or economies
All attendees must check the particular requirements with a local consulate or travel agency.