Westin Hotel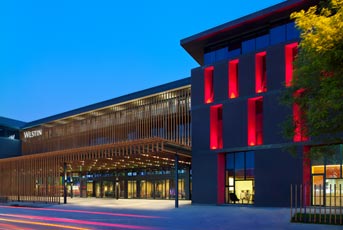 APNIC 36 will be held at the Westin Hotel, Xi'an.
66 Ci En Road Qu Jiang New District
Email: apnicxian@sina.cn
Tel: +86 29 6568 6568
Website: https://www.starwoodhotels.com/westin/property/overview/index.html?propertyID=3118
Please note: The Standard rooms are now fully booked.
Rate: RMB 980, Premier room, includes breakfast and in-room Internet access
Booking form
Please note, as we are now approaching the Conference week, any cancellations for accommodation at the Westin will still be charged.
Xi'an Yanta International Hotel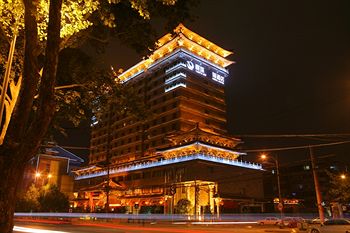 This hotel is approximately 15 to 20 minutes' walking distance from the Westin, Xi'an.
609 West-Middle Section Xiying Road
Tel: +86 29 6866 3333
Email: apnicxian@sina.cn
Fax: +86 29 6867 5911
Rate: RMB 420 Deluxe Single/Double rooms, includes breakfast and in-room Internet access
Booking form
Xi'an Garden Hotel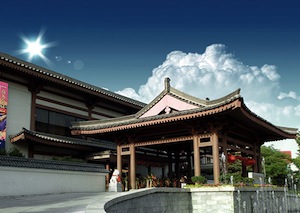 This hotel is 8 minutes' walking distance from the Westin, Xi'an.
40 Yanyin Road
Tel:+86 29 8760 1111
Email: apnicxian@sina.cn
Fax: +86 29 8526 1998
Rate: RMB 400 Deluxe Single/Double room, includes Breakfast and in-room Internet access
Booking form
Ci'en Hotel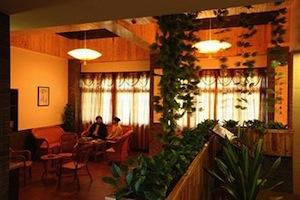 This hotel is 15 minutes' walking distance from the Westin, Xi'an.
8 Xiaoshai East Road, Yanta District
Email: apnicxian@sina.cn
Rate: RMB 320 Deluxe Double/Single room, includes breakfast and in-room Internet access
Booking form
Visas
Most foreign citizens must obtain a visa to enter China, but there are some exceptions that allow citizens of some economies visa-free entry. All travellers are strongly encouraged to visit the Chinese embassy or consular website in their region to read the specific requirements to obtain a visa.
Visa exemptions
Ordinary passport holders of Singapore, Brunei, and Japan are allowed to enter China without visas for up to 15 days for tourism, including visiting family and friends, or minor business purposes, provided they enter through nominated international ports: Beijing International Airport (PEK), Shanghai Pudong Airport (PVG), and Hongqiao International Airport (SHA).
Passport
A valid passport is mandatory to enter China, with at least one blank page. Your passport should be valid for at least six months from the date of entry into China. All visitors must also have an entry and exit ticket.
Business Visa (F-visa)
A Chinese Business visa is needed to enter China if you are attending various kinds of trade fairs, exhibitions, or meetings for a period of no more than six months. Read more about the Chinese Business Visa.
Basic documents needed for the F-visa
This information is for reference only. Please contact your local Chinese embassy for the specific visa requirements.
Passport: Submit your original passport with a photocopy of the information page. Your passport must be valid for at least six months and have at least one blank page.
Visa Application Form: The Visa Application Form V2011A is required for all applicants, and some may need to submit the supplementary form, V2011B.
Photo: One recent colour photo, without head covering, 48 x 33mm
Invitation letter
An invitation letter is required for the F Visa application. APNIC 36 attendees will receive a formal invitation letter that meets the requirements when they register for the conference. Attendees who require an additional letter from the Chinese Immigration Department may send a request to registryinfo@cnnic.cn.
Please note: It will take approximately two weeks to obtain an invitation letter from the Chinese Immigration Department.
Fast facts about Xi'an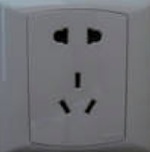 Weather: Average temperature is max 31°C, min 21°C
Official language(s): Mandarin dialect: Guangzhong
Calling code: +86
Time Zone: UTC +8 hours
Currency: Renminbi (RMB) or Chinese Yuan (CNY)
Power Outlets: 220V, 50HZ
Resident Population: 8,467,837
Emergency Numbers:
Fire:
119
Traffic:
122
Ambulance:
120
Police:
110
Useful Numbers:
Telephone Number Inquiry:
114
Public Buses Complain:
16801315
China Mobile Customer Hotline:
10086
China Unicom Customer Hotline:
10010
China Telecom Customer Hotline:
10000
Toilet Facilities:
Most toilet facilities in emporiums, shopping centres, supermarkets, stations, and scenic spots are free. Others will charge CNY 0.5 to CNY 1. Please note that with the exception of 5-star rated hotels, no paper is supplied at these public toilets, including the airport and railway stations.
Tipping:
In recognition of good service, tipping servers and housekeepers in western restaurants, guides and drivers from an organized tour groups, and bellhops who take your luggage to the room. It is unnecessary to tip when taking a taxi, hiring a car, or dining in Chinese restaurants.
Transport
There are various forms of transport including taxi, City Bus, suburban bus, train, and subway.
Local attractions
CTS travel agents have organized several day tour options for APNIC 36 delegates. Join us on an adventure to experience Xi'an!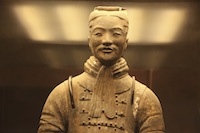 Terracotta army
The Terracotta Warriors and Horses is China's greatest archeological excavation. Life size terracotta figures of warriors and horses arranged in battle formations symbolically guard the Mausoleum of Emperor Qin Shi Huang, the first emperor of the Qin dynasty (246-209 BCE).
City Wall
The circular City Wall, adorned with a moat surrounds the square inner city. It is one of the largest ancient military defensive systems in the world, built first in the early Ming Dynasty (1368-1644).
Huashan Mountain
Mt Huashan is one of the five sacred mountains in China famed for precipitous crags, narrow and steep paths. Many visitors choose to climb the mountain at night and wait for the sun rise on the top.
Huaqing Hot Springs
Huaqing Hot Springs is on the way back from the Terracotta site. A must for every visitor to Xi'an. For centuries emperors came here to bathe and enjoy the scenic beauty, and it has been a favorite spa since the Tang Dynasty (618-907 CE).
Banpo Village
Banpo Village Remains was a village settlement of the earliest inhabitants of Xi'an, typical of the Neolithic Yangshao culture.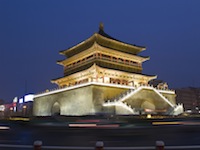 Bell & Drum Towers
The two buildings at Xi'an are the best known in China. The Bell Tower was built in the city center and from the top can enjoy a panoramic view of the whole of Xi'an. Not far away to the west is the Drum Tower, a large drum inside was for marking the passage of time each night in ancient times.
Big and Small Wild Goose Pagoda
Additional attractions are the Big Wild Goose Pagoda and Small Wild Goose Pagoda of the Tang Dynasty (618-907 A.D), while worshipers still frequent the Great Mosque and the famous Famen Temple noted for its collection of Sakyamuni's relics. There is also spectacular Fountain and Music Show every 12:00 and 20:00 from Monday to Saturday; 12:00, 14:00, 16:00, 18:00 and 21:00 in weekends.
Tang Dynasty Show
The Tang Dynasty Show offers you the chance to experience a traditional Chinese evening. Its music and dance symbolize the glory and beauty of Chinese civilization with over 100 performance artists.
Shopping Centres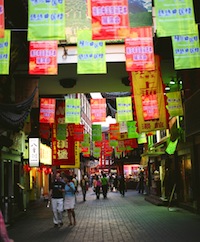 Century Ginwa Shopping Mall
Located between the ancient Bell tower and Drum tower, Century Ginwa Shopping Mall is a high quality, exclusive shopping center. It houses over sixty world-famous brands including Bally, Burberry, Dior, Givenchy, Lancome, and Estee Lauder.
Opening Hours: 09:30—22:00 (Summer), 09:30—21:00 (Winter)
Address: Bell Tower Branch: 1, West Street, Bell and Drum Square, Beilin District
Kai Yuan Shopping Mall: This is one of the biggest and most popular shopping places in Xi'an with reasonable prices, good quality, good location and good service. Located opposite Ginwa shopping mall.
Opening Hours: 09:00—21:00
Address: 6, Jiefang Markey, East Street, Beilin District (near the Bell Tower)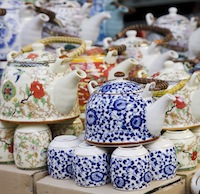 Shu Yuan Men (The Arts Street): Under the ancient city wall behind the Forest of Steles in Xi'an, there is a well-known street in the style of ancient towns - Shu Yuan Men. Both sides of the slab stone road are lined with buildings in the Ming and Qing styles. Various crafts and arts are sold on this crowded street all year long. Historical relics, calligraphy, paintings, antiques, jewels, and folk art fine works are all tourist favorites.
Xi'an Antique Market: Xi'an Antique Market is located at the intersection of Zhuque Lu and Nan Erhuan Lu (Southern 2nd Ring Road) near the Small Wild Goose Pagoda. From large furniture to small coins, the market contains every possible antique known to collectors - but you should be on guard against replicas.
Minsheng Department Store: The biggest branch in Xi'an, is the Jiefang Lu branch near to Xi'an Railway Station. It is known in northwestern China for its excellent, new, special and comprehensive commodities.
Jiefang Lu Branch: 103, Jiefang Lu, Xincheng District
Restaurants
Please note, many restaurants in China do not accept credit cards.
Jiefang Lu Chinese Dumpling Restaurant
Address: Jiefang Rd
Tel: 87288305
Description: The most famous Xi'an Dumpling Banquet is served.
Opening Hours: 11:00 to 21:00
Average Spending: $$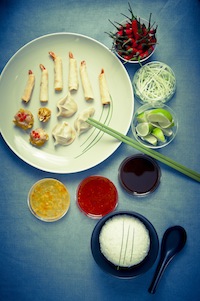 Xi'an Laosun Jia Restaurant
Address: Dongguan Main St
Tel: 82482993
Description: This is the most famous Muslim restaurant in Xi'an. It features the Yangrou Paomo (pancake in mutton or beef soup).
Opening Hours: 11:30 to 14:00, 17:00 - 21:00
Average Spending: $$

Shaanxi Local Food Restaurant
Add: Dongda Jie
Tel: 87251166
Description: It provides the most authentic local specialties.
Opening Hours: 11:30 to 14:00, 17:00 to 21:00
Average Spending: $-$$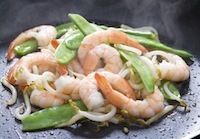 Guangdong Xuehua Restaurant
Add: #14 Hanguang Rd
Tel: 88224449
Description: It features Cantonese seafood. The fresh and rare materials are airlifted from Guangdong twice a day.
Opening Hours: 11:00 to 21:00
Average Spending: $$-$$$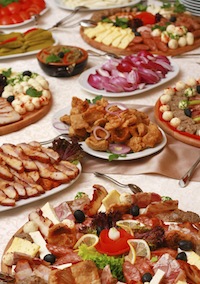 Xiaobei Ke Restaurant Add: Zhuque Rd
Tel: 85230017
Description: It provides genuine Sichuan hot and spicy food.
Opening Hours: 11:30 to 14:00, 17:00 to 21:00
Average Spending: $$-$$$

Oyster Restaurant
Add: #2 Fenxiang Lane
Tel: 87275658
Description: As one of the best western restaurants in Xi'an, it serves buffet both for lunch and dinner. Nice atmosphere and good food.
Opening Hours: 11:00 to 22:00
Average Spending: $$

Popular local cuisine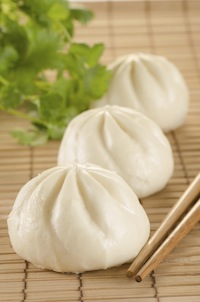 Yangrou Paomo
Yangrou Paomo is a delicious soup dish with flatbread in a mutton stock. When the steaming hot meal is brought in, the waiter will also offer you sweet crisp pickled garlic, coriander, and hot pepper sauce.
Guan Tang Baozi
Shaanxi cuisine has Muslim influences, which can be found in various types of street foods. Guan tang baozi, or steamed buns filled with sauces, is a local specialty, with a choice of beef, lamb, or "three flavours" (lamb, mushroom, prawns).
Rou Jia Mo
This popular snack is finely chopped pork stuffed in toasted wheat flour flat bread. A piece of youzhi bread and a bowl of mung bean flour soup will cost you no more than CNY 10.
Bars
1+1 Disco Bar
This bar guarantees unlimited fun and entertainment, the most popular bar amongst foreigners. About a kilometer from Bell Tower at No 285 Dong Dajie, it is decorated in a trendy style with a hint of 'heavy metal', which is rare in similar bars in Xi'an.
Address: No.285, East Avenue, Beilin District, Xi'an
Tel: (29)87280008
Hours: 20:00 - midnight
Salsa Club
Popular among local young people, especially on weekends.
Address: No.6, West Avenue, Lianhu District
Tel: (29)-87286666
Hours: 20:00 - midnight
Xi'an Diwang Club
Known as the best club in Xi'an, it is also the most state-of-the-art and expensive.
Address: No.231, East Avenue, Beilin District, Xi'an
Phone: (29) 85227569
Hours: 20:00 - midnight
Xi'an Longdu Disc Club
One of the most popular disco bars with the young and hip in Xi'an, the DJ is great, and the ambience and service are good.
Address: No.72, Nanyuan Gate, Xi'an
Phone: (29) 87250342
Hours: 20:00 - midnight