APNIC Open Policy Meeting (OPM)
Policy SIG Chair Election
An election to appoint a Policy SIG Chair was held as the first agenda item of the APNIC 36 Policy SIG Meeting.
Congratulations to Andy Linton who was re-elected to serve a further two years as Chair of the APNIC Policy SIG.
Agenda
Get involved in APNIC policy development

Policy development is a continuous process that takes place year round on the APNIC Policy SIG mailing list.
Find out how you can participate in the policy development process.
IP addresses and AS numbers are shared resources, available for use by anyone who can demonstrate the need for them. APNIC policies ensure these resources are distributed fairly and consistently across the whole Asia Pacific region. Proposed policy changes are discussed in the Policy SIG.
Consensus Policy Making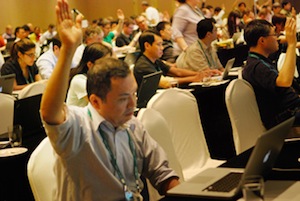 APNIC policies are decided by the Asia Pacific community in a consensus decision-making process that is:
Open
Transparent
Bottom-up