Shangri-La Hotel
APNIC 35 will be held at the Shangri-La Hotel in Singapore.
Shangri-La Room Rates
Superior/Deluxe Fully booked
SGD 320*
(single)
SGD 365*
(Twin)
Horizon Club Fully booked
SGD 385*
(single)
SGD 425*
(Twin)
Garden Wing Rooms Fully booked
SGD 370*
(single)
SGD 410*
(Twin)
* Room rates include room and internet access only. Rates are subjected to Singapore prevailing taxes.
Located in Southeast Asia, Singapore has a land area of about 710 square kilometres, making her one of the smallest countries in the world. A bustling cosmopolitan city, Singapore offers a world-class living environment, with her landscape populated by high-rise buildings and gardens.
One distinct Singaporean feature is the ubiquitous collage of cultures. Coming together as a society and living in harmony, there are four major cultures - Chinese, Malay, Indian, and Eurasian. Each community offers a different perspective of life in Singapore in terms of culture, religion, food and language.
At present, Singapore's population stands at about five million people, with English as the main language of instruction, and a mother tongue for each major ethnicity.
Orchard Parade Hotel
Orchard Parade Room Rates
Superior Rooms Fully booked
SGD 200*
(single)
SGD 200*
(Twin)
Club Room Limited rooms available
SGD 285*
(single)
SGD 315*
(Twin)
* Room rates per night include room and internet access ONLY. Room rates are applicable for APRICOT 2013 delegates only. For Club Rooms, full club benefits will apply. Rates are subjected to Singapore prevailing taxes.
SEAMEO Regional Language Centre
SEAMEO Room Rates
Executive Twin Rooms Fully booked
SGD 160*
(single)
SGD 160*
(Twin)
Deluxe Queen / King Fully booked
SGD 205*
(single)
SGD 205*
(Twin)
* Room rates include room and internet access only. Rates are subjected to Singapore prevailing taxes.
Traders Hotel
Traders Hotel Room Rates
Superior/Deluxe Rooms Fully booked
SGD 220*
(single)
SGD 240*
(Twin)
Traders Club
SGD 330*
(single)
SGD 370*
(Twin)
* Room rates include room and internet access only. Rates are subjected to Singapore prevailing taxes. Rates are subjected to Singapore prevailing taxes.
Hotel Locations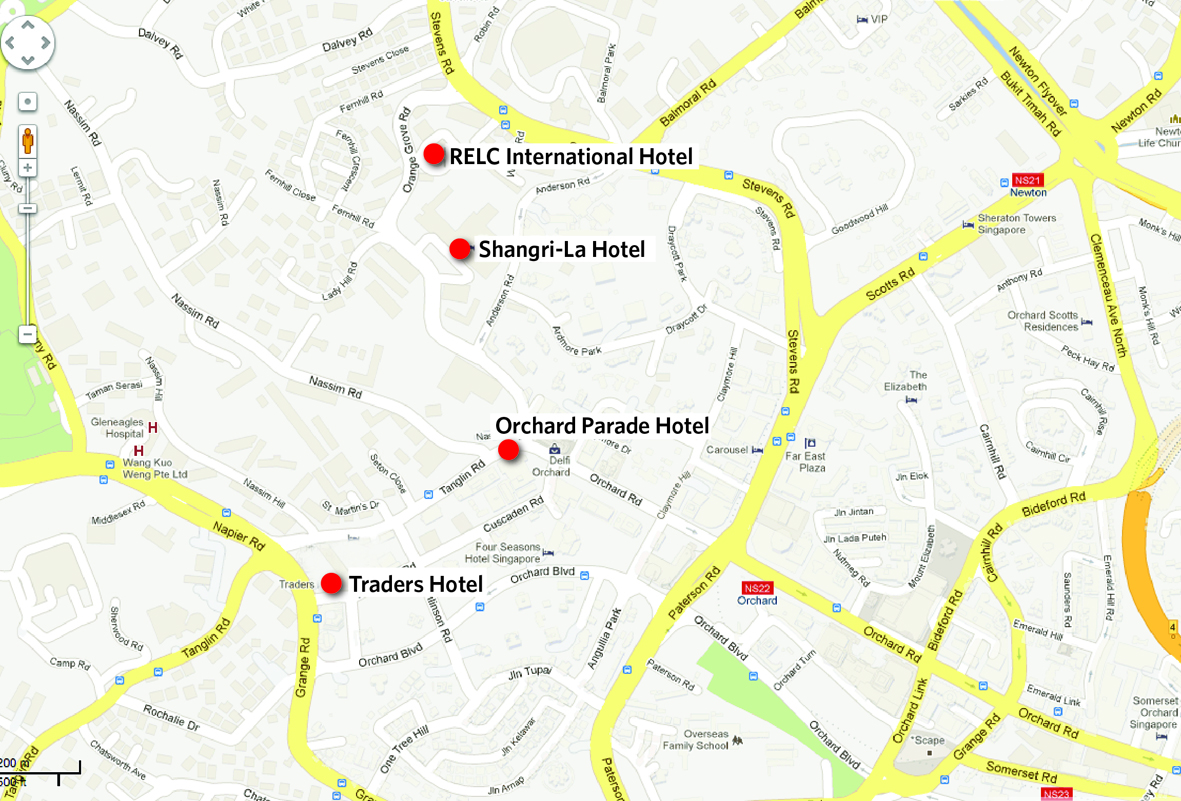 Entry to Singapore
Apart from visitors from some Assessment Level I and II countries, most foreigners coming into Singapore do not require visas for entry and may be given up to 30-day social visit passes upon their arrival in Singapore.
However, participants are strongly advised to make sure they fulfill all legal requirements to enter Singapore. Besides a valid passport, an entry visa may also be required.
Countries requiring visas
Foreigners holding travel documents issued by the following countries will require a visa to enter Singapore:
Assessment Level I Countries
Armenia, Azerbaijan, Belarus, Georgia, India, Kazakhstan, Kyrgyzstan, Moldova, Myanmar, Nigeria, Russia, People's Republic of China, Tajikistan, Turkmenistan, Ukraine, Uzbekistan, Holders of Hong Kong Document of Identity, Holders of Macao Special Administrative Region (MSAR) Travel Permit, Commonwealth of Independent States.
Assessment Level II Countries
Afghanistan, Algeria, Bangladesh, Egypt, Iran, Iraq, Jordan, Lebanon, Libya, Morocco, Pakistan, Saudi Arabia, Somalia, Sudan, Syria, Tunisia, Yemen, Holders of Palestinian Authority Passport, Temporary Passport issued by the United Arab Emirates, and Refugee Travel Document issued by Middle-East countries.
For more information on your entry visa to enter Singapore, please visit the official website of the Immigration and Checkpoints Authority of Singapore.
For more information on duty-free concession and GST relief, click here.
For more information on controlled and prohibited goods, click here.
For further enquiries , please email apricot2013@sgnic.sg
Getting around Singapore
Taxis
Taxis are easily available at the designated taxi zones located outside of arrival halls on all airport terminals. The estimated cost to go to the city center (Orchard Road Vicinity) is approximately SGD 30 and the journey will take approximately 30 minutes.
For more information, click here.
MRT train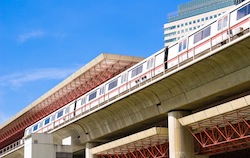 From the Singapore Changi International Airport, you will need to take the MRT to Tanah Merah Station and transfer to a west bound train (green line) which will take you straight into the city centre.
In Singapore, to travel on MRT you will need to purchase an ez-link card from any Transitlink Ticket Office within the MRT stations. Stored value ez-link cards come with a minimum stored value of SGD 10. The remaining amount in your stored value card is refundable at any Transitlink Ticket Office within the MRT station.
For more information and to download the MRT route map go to www.smrt.com.sg or www.streetdirectory.com, which will also highlight some of the major buildings and amenities around respective SMRT stations, bus stops and places of interest.
Public bus
From the Singapore Changi International Airport, public bus service 36 goes to the city. The first bus arrives at around 6:00 am and the last leaves at midnight. A single fare costs below SGD 3 and takes about 1 hour and 30 minutes to go to the city centre (Orchard Road Vicinity). Bus stops are located at the basement bus bays of Terminals 1, 2 and 3.
To travel on the Public Buses, you may pay cash or use the ez-link card. For cash, please have the exact change as no change will be given. For more information on the different bus services offered, please visit www.sbstransit.com.sg
Fast facts about Singapore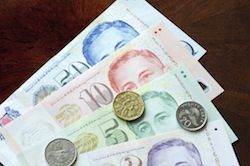 Calling code: +65
Currency: SGD
Time zone: UTC +8
Voltage: 230, 50Hz Type G adapter plug
Did you know chewing gum is banned in Singapore?
Contact numbers
Emergency Hotlines
Police - 999
Ambulance - 995
Fire Brigade - 995
Flight Information - 1800 542 4422
Medical Services
Raffles Hospital (585 North Bridge Road) - (65) 6311 1111
Singapore General Hospital (Outram Road) - (65) 6222 3322
Gleneagles Hospital (6A Napier Road) - (65) 6473 7222
Credit Cards
American Express - 1800 396 6000
JCB - (65) 6734 0096
Diners Card - (65) 6416 0800
Visa - 800 448 1250
MasterCard - 800 110 0113
Foreign Embassies
Germany (50 Raffles Place) - (65) 6533 6002
Australia (25 Napier Road) - (65) 6836 4100
USA (27 Napier Road) - (65) 6476 9100
UK (100 Tanglin Road) - 6424 4200
Canada (1 George Street) - (65) 6854 5900
France (101 Cluny Park Road) - (65) 6880 7800
For more embassies, click here.
More useful information
Mobile phones
Singapore's international dialing code is +65. There are three major telecommunications providers:
MobileOne Pte Ltd (M1)
Singapore telecommunications Ltd (SINGTEL)
Starhub Pte Ltd (STARHUB)
If you have international roaming on your mobile while in Singapore, you do not have to press +65 - you will be automatically connected to the local numbers here. All Singapore telephone numbers have up to eight digits.
Public Telephones are abundant around Singapore. To avoid high roaming charges, you may consider purchasing international phone cards, which are available at convenient stores, supermarket customer counters, telco stores, and at hotel concierge services.
(No) Smoking
Cigarettes can be purchased at supermarkets and convenience stores by individuals aged 18 or over. Be aware that smoking is banned within many vicinities in Singapore and a maximum fine of SGD 1,000 may be imposed on offenders.
Smoking is an offense in all air-conditioned areas such as shopping centres, restaurants, entertainment outlets and cinemas, as well as on the SMRT (Singapore Mass Rapid Transit system), public buses, taxis, and in lifts.
A smoking ban has also been imposed on public eateries and within a five-metre radius from most building entrances, bus stops, taxi stands, and medical centres except for allocated smoking areas that are clearly marked with bright yellow paint.
Tax refunds
While you are in Singapore, you can get a refund on the 7% Goods and Services Tax (GST) on your purchases. Look out for retailers displaying the "Tax Refund" logo and spend SGD 100 or more to qualify. GST is refunded directly to you at selected retailers, Changi International Airport, or Seletar Airport on goods that are brought out of Singapore. A handling fee for the refund service may be deducted from the GST amount. Please note that tax refund is available for departure by air only.
Weather
Singapore's proximity to the equator means its climate is hot and humid, with little variation throughout the year. The average daytime temperature is 31ºC (88ºF), dropping to around 24ºC (75ºF) in the evening.
With no distinct seasons, Singapore will get occasional rain throughout the year, with heavy rainfall during monsoon season from October to December.
Linen and lightweight cotton clothing is recommended.
Currency
Singapore's currency is the Singaporean Dollar (SGD). Singapore's currency denominations are:
| | |
| --- | --- |
| Coins | Notes |
| 5 cents | SGD 2 |
| 10 cents | SGD 5 |
| 20 cents | SGD 10 |
| 50 cents | SGD 50 |
| SGD 1 | SGD 100 |
| | SGD 500 |
| | SGD 1,000 |
Money changing services can be found at the airport and most shopping centres and hotels.
You can also access the automated teller machines (ATMs) located everywhere in Singapore which accept most major credit cards and American Express.
Banks are usually open from 9:30 to 15:00, Monday through Friday and 9:30 to 11:30 on Saturday. Banks are usually closed on Sunday.
Major credit cards are also accepted at major retail outlets, cafés, and restaurants in Singapore.
Supply Voltage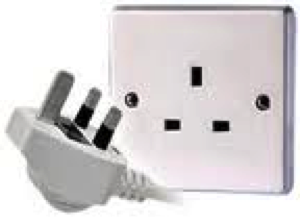 Supply voltage is 230, 50Hz. Singapore utilizes the Type G British 3-pin Electrical Adapter Plug and Electrical Outlet. The Type G electrical plug is a British three-pin rectangular blade plug that has a protective fuse inside to protect cords from high-current circuits. Type G outlets generally include safety switches.
Language
English is widely spoken, and major languages include Mandarin, Tamil, and Bahasa. Most Singaporeans speak three or four languages!
"Singlish" slang
Singaporeans have adapted English usage, affectionately termed "Singlish", which borrows elements of all major languages spoken in Singapore. Here are a few phrases to help you settle in:
"Lah" A famous expression used at the end of a sentence for emphasis.
Example: Very funny, lah!
"Chope" To reserve a seat.
Example: We need to get there early to chope seats for our group.
"Kiasu" (pronounced 'kee-a-soo') From Hokkien dialect, meaning afraid to lose out to others or not to lose face.
Example: He sent his family to line up in different queues for the same item, so kiasu.
"Shiok" (pronounced 'shee-oak') From Malay, meaning fantastic or marvelous.
Example: That plate of steak was shiok!
"Auntie/Uncle" A generic address for middle aged or elderly persons to denote respect.
Example: Uncle, I would like to order a plate of noodles?
Cultural infusion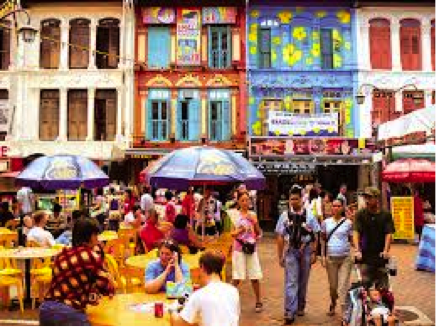 Visit Chinatown for a fascinating peek into Singapore's Chinese culture and history.
12 Teck Lim Rd, 088387
The Malay Village is a museum that showcases the life of the Malays who used to live in Singapore before redevelopment in the 1960s.
39 Geylang Serai, 409227
Little India is one of the most vibrant and culturally authentic districts in Singapore. Immerse yourself in an Indian experience!
Serangoon Road, Singapore
Shopping Centres
Orchard Road: Takashimaya, Wisma Atria, ION, Far East Plaza
313 @ Somerset Area
Dhoby Ghaut Area: Plaza Singapura Shopping Centre
If you are looking for a huge shopping spree, Orchard Road, Somerset, and Dhoby Ghaut are all located on a long stretch, making this a one-stop haven for shopaholics. The entire area is a 20-25 minute walk.
Sim Lim Square: If you love gadgets, Sim Lim is a six-level shopping centre devoted to electronics!
1 Rochor Canal Road, 188504
Bugis Junction Shopping Centre and Flea Market: This is a huge mall with several restaurants and a massive flea market across the road, for those who like unusual finds.
Bugis Junction, 200 Victoria St, 188021 Tel: 6557 6557
Vivo City: A large mall in Harbour Front, on the way to Sentosa.
1 HarborFront Walk, 098585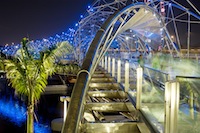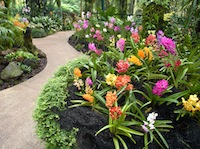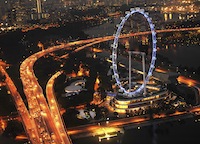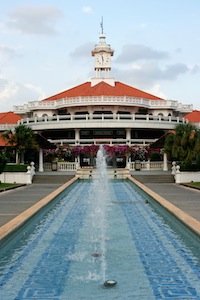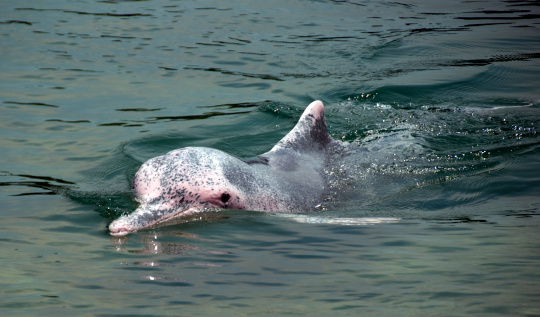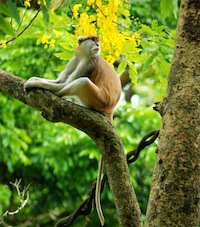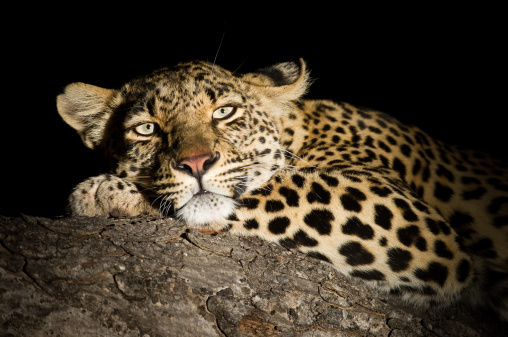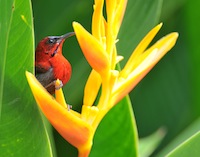 Local attractions
SIA Hop-On Trolley
The best way to enjoy a city tour in Singapore will be on the SIA Hop-on. It is a convenient tourist bus service that offers passengers unlimited air-conditioned rides to 23 of the most popular attractions located within the shopping, dining, cultural, and entertainment areas in the City. Passengers may hop on and hop off the bus whenever they want. For more information, please log on to http://www.siahopon.com
Gardens by the Bay
The latest inclusion to the local attraction, Gardens by the Bay brings to life NParks' vision of creating a City in a Garden. The Gardens captures the essence of Singapore as the premier tropical Garden City. For more information, please log on to www.gardensbythebay.com.sg
The Singapore Flyer
Singapore Flyer is the world's largest observation wheel and an iconic feature to the Singapore's new skyline. Standing at a stunning 165m from the ground, the Flyer offers you breathtaking, panoramic views of the Marina Bay, Gardens by the Bay, our island city and beyond. There's also a wide range of shops, restaurants, activities and facilities. Please book your tickets online at this official site or you may purchase tickets on site.
Sentosa
Located just 15 minutes from the city, Sentosa, Asia's Favourite Playground, is home to an exciting array of themed attractions, award-winning spa retreats, lush rainforests, golden sandy beaches, resort accommodations, world-renowned golf courses, a deep-water yachting marina and luxurious residences.
Universal Studios Singapore
In 2010, Sentosa welcomed Singapore's first integrated resort, Resorts World™ Sentosa, which operates South East Asia's first Universal Studios theme park. Ride The Movies® at the many exclusive attractions found only at the region's first Hollywood movie theme park, Universal Studios Singapore®. Featuring 24 movie-themed rides and attractions, 18 of which are unique to Singapore, thrill seekers and families will be the first to experience many new rides and shows based on blockbuster hits.
Underwater World and the Dolphin Lagoon
Be thrilled by unique encounters with marine animals. Feed gentle rays and sharks, defy gravity feeding fish through openings at the side of the MAGIC-T tank, spot masters of disguise like the amazing mimic octopus, allow giant isopods to crawl all around you and even tunnel under the sea on an 83m long voyage to the colourful Reef and Ocean Colonies! Meet with our other residents of Dolphin Lagoon - the adorable fur seals as they perform alongside pink dolphins. Don't forget to catch our Meet-the-Dolphins and Fur Seals LIVE! performances at the following time slots too!
Singapore Zoological Gardens
Singapore Zoo has one of the most beautiful settings in the world, where animals roam freely in open and natural habitats. Covering 26 hectares, the park is home to more than 2,800 animals representing over 300 species of mammals, birds and reptiles. Singapore Zoo also boasts the world's first free-ranging orangutan habitat in a zoo, which showcases the charismatic apes, which are the Zoo's flagship species, in natural surroundings.
Night Safari
Complete your experience by visiting the Night Safari, located at the same vicinity. Being the world's first dedicated night zoo, the Night Safari is a must-see attraction for all tourists. Opened in 1994, Night Safari is the world's first safari park for nocturnal animals. It spans 35 hectares of secondary forest and is home to over 2,500 animals of 137 species, of which 38% are threatened.
Jurong Bird Park
Jurong Bird Park is the largest bird park in the region, offering a 20.2-hectare hillside haven for 5,000 birds, representing 380 species. Jurong Bird Park is home to the world's largest walk-in lory flight aviary at 3,000 square metres and over 9 stories high, featuring 10 colourful lory species. This exhibit is a favourite amongst guests who get to feed the gregarious lories a nectar mix while observing them up close. Other not-to-be missed highlights include African Waterfall Aviary, the hornbill and toucan exhibit, Penguin Coast, Macaw Island, Flamingo Lake and Heliconia Repository.
Restaurants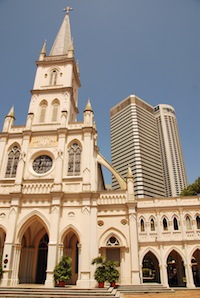 Lau Pa Sat
This restaurant, in the heart of Singapore's CBD, is situated in the largest remaining Victorian filigree cast-iron structure in Southeast Asia. At night the surrounding area becomes an open air food court.
18 Raffles Quay 048582 Tel: 1800 226 6121
Chijmes
The Chijimes Chapel is located in Singapore's most significant heritage landmark building, offering a unique dining and entertainment experience
30 Victoria St 187996 Tel: 6336 1818
Jumbo Seafood Restaurant
This is where you should go to get your chilli crabs - in East Coast Park!
1206 East Coast Parkway 449893 Tel: 6442 3435
White Rabbit
A restaurant/bar with a beautifully restored chapel design, serving European dishes.
39C Harding Rd 249541 Tel: 6473 9965
24-hr Kopitam
What Singaporeans call a "food court". Come here late night for cheap local food.
Holland Village
A charming village that features English colonial and Bohemian architecture, with a variety of dining choices.
261 Holland Avenue 278986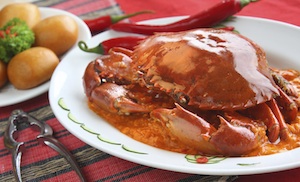 Popular Singaporean dishes
Chilli crabs
Don't leave Singapore without trying the most popular dish! Other crab preparations include pepper, butter, or salted egg yolk.
Satay Bee Hoon
This is a chilli-based peanut sauce, similar to Thai satay. It's usually served with a few stalks of Kang Kong (type of leafy green vegetable), slices of cuttlefish, fried fish cake, pork slices, and cockles.
Lor Mee
These thick, flat yellow noodles are served in a heavy, starchy gravy, often served with ngo hiang (fried meat rolls), fish cake, fish, dumplings, or boiled egg.
Cha Keow Teow
This popular dish combines rice noodles, seafood, Chinese sausages, and lard into one sinfully savoury meal!
Carrot Cake
Not the sweet treat you might imagine! This is a special flour cake fried with eggs, with white or black soy sauce.
Fried Oyster Egg
As it sounds, the fried oyster and egg combination is popular among Singaporeans.
Ice Kacang
A refreshing cold dessert made of sweet corn, red beans, and jellies.
Bars
Clarke Quay
Here is a huge array of bars, restaurants, and night clubs, all accessible from the MRT at Clarke Quay station.
Indochine Forbidden City - Bar Cocoon
The decor is lavish with antique furniture, flowing draps, and dim lanterns, providing a chic and sensuous ambiance.
#01-02 Clarke Quay, River Valley Rd Tel: 6557 6258
Mon-Thu 17:00 - 02:00, Fri-Sat 17:00 - 05:00
*A compulsory vodka shot (SGD 14) is your passage through the air-locked doorway.
Pump Room
This is a great place for live music, usually courtesy of the resident band, Jive Talkin', belting out infectious rock and pop hits.
#01-09/10 Blk B Clarke Quay, 2 River Valley Rd Tel: 6334 2628
Mon-Fri 12:00 - 03:00, Sat-Sun 12:00 - 05:00
Crazy Elephant
Come to this bar for live rock and blues including resident act, The Blues Machine. This modest spot is a celebrity favourite!
#01-03/04 Blk E Clarke Quay, 3 River Valley Rd Tel: 6337 7859
Sun-Thurs 17:00 - 02:00, Sat 17:00 - 03:00
Attica Bar
Fashionistas, socialites, and professionals frequent this lush and inviting bar. This is the place to see and be seen in Clarke Quay!
#01-03 Blk A 3 River Valley Rd Tel: 6333 9973
Sun-Tue 17:30 - 24:00, Wed-Fri (except Thu) 17:30 - 04:00, Thu 17:30 - 03:00
Other nightclub precincts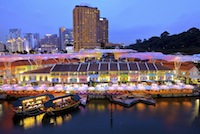 Boat Quay
Just opposite Clarke Quay, this is another hot spot of bars, pubs, and restaurants
Bonham St 049782 Tel: 6736 6622
St James Power Station
If you're coming back from Sentosa, here's a place with 16 dance clubs and restaurants all in one location, promising a fun night.
3 Sentosa Gateway 098544 Tel: 6270 7676
New Asia Bar: Swissôtel
Located on the 71st floor of Swissôtel The Stamford, this is one of Singapore's highest clubs in one of Singapore's tallest hotels. The 360-degree view at 226 metres is worth the SGD 25 entry fee, which also includes one drink. On a clear night, you can see Indonesia!
Swissôtel The Stamford, Level 71, Equinox Complex, 2 Stamford Rd Tel: 6837 3322
Sun-Tue 15:00 - 01:00, Wed-Thu 15:00 - 02:00, Fri-Sat 15:00 - 03:00
Long Bar: Raffles Hotel
Known for creating the Singapore Sling, this bar permits casual dress. The third floor gallery has an exhibit on the history of the hotel.
Raffles Hotel Singapore, 1 Beach Rd 189673 Tel 6337 1886
Sun-Thu 12:00 - 00:30, Fri-Sat 12:00 - 01:30
Eski Bar: Holland Village
In this "freezer" bar, the temperature is as low as -16C!
Holland Village, 26 Lorong Mambong and 46 Circular Rd Tel: 6536 3757
Sun-Thu 16:00 - 01:00, Fri-Sat 15:00 - 02:00