Video / Transcripts
Videos and transcripts for this session will be added here soon.
APNIC Policy SIG: Wednesday 11:00 - 12:30
SIG Administration

Andy Linton

0 MB%

0 MB%

Slides

871.2 KB

Implementation Report

Adam Gosling

0 MB%

0 MB%

Slides

919.2 KB

Informational: Creation of Route Objects in APNIC whois

George Michaelson

0 MB%

0 MB%

Slides

926.3 KB

Informational: Policy Options for Encouraging Membership of an NIR

Sanjeev Gupta

0 MB%

0 MB%

Slides

96.7 KB

Paper

138.9 KB
Informational Presentations: Thursday 11:00 - 12:30
Documentation Update

Adam Gosling

0 MB%

0 MB%

Slides

2.5 MB

Informational: The Role of the APNIC Secretariat in the PDP

Dean Pemberton

0 MB%

0 MB%

Slides

848.2 KB

Informational: Questions for Clarification in the APNIC PDP

Masato Yamanishi

0 MB%

0 MB%

Slides

914.1 KB

PDP Discussion

Andy Linton, SIG Chair

0 MB%

0 MB%

Slides

855.0 KB
Easy Links: Mailing List | Subscriptions | Proposals | Current Policies | About the PDP
Get involved in the Policy Development Process

IP addresses and AS numbers are shared resources, available for use by anyone who can demonstrate the need for them. APNIC policies ensure these resources are distributed fairly and consistently across the whole Asia Pacific region. Proposed policy changes are discussed in the Policy SIG.
The charter of the Policy SIG is to develop policies and procedures for the management and use of numeric Internet resources in the Asia Pacific region.
Find out how you can participate in the policy development process.
Consensus Policy Making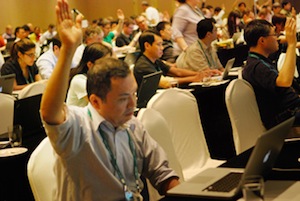 APNIC policies are decided by the Asia Pacific community in a consensus decision-making process that is:
Open
Transparent
Bottom-up