Nagaworld Hotel and Entertainment Complex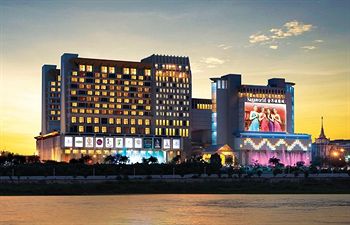 Getting there
This five-star hotel and entertainment complex is only 30 minutes from the Phnom Penh International Airport. The hotel provides a transfer service which ranges between USD 18 to USD 70 depending on the type of vehicle requested. Alternatively, taxis will cost around USD 9.
If you would like to catch a taxi to your hotel, there are 2 companies, Global Taxi and Choice Taxi. Please email Sorphea 1-2 days in advance of your flight details and she will arrange a taxi at the airport for you. Taxis charge around $1 per kilometre. The airport to NagaWorld is about 6 kilometres.
Fast facts about Cambodia
Weather: August average temperature is max 22°C, min 9°COfficial languages: Khmer & English
Calling code: +855
Currency: US Dollars
Time zone: UTC + 7
Power outlets: 230 V, 50 Hz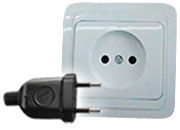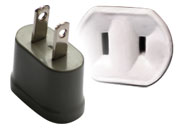 Tourist Attractions
Read through the APNIC 34 Guide to Cambodia for more information about cultural and tourist attractions around Phnom Penh.
Markets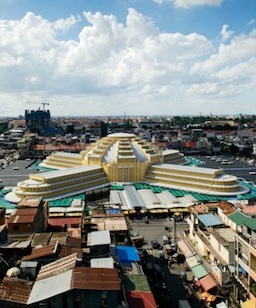 Russian Market
Psar Tuol Tom Pong, also commonly known as the Russian Market, is a bustling marketplace not to be missed. You can find a variety of items here such as traditional handicraft, shoes and clothing, exotic gifts or souvenirs and many other interesting finds.
Address: Corner of St. 440 and St. 163, south of Mao Tse Tung Blvd, Phnom Penh
Opening hours: 06:30 - 19:00 (sunrise to sunset)
Central Market
Psah Thmay, translated to mean "new market" shines as an intricate art décor building and a historical landmark of Phnom Penh. Its high-vaulted ceilings distinguish it from other markets and you will find a diverse range of merchandise here from traditional souvenirs to clothing and local food.
Address: Between streets 126 and 136, Phnom Penh
Opening hours: 06:30 - 19:00 (sunrise to sunset)
National Museum
The National Museum of Cambodia was built in 1917 and is home to the world's prime collection of the earliest and rarest archeological, religious and artistic Khmer artifacts from 4th to 13th century. There are over 5000 displays so make sure you set time aside to explore this fascinating place.
Address: Street 178 & Street 13, next to the Royal Palace, Phnom Penh
Opening hours: Daily from 8:00am-5:00pm
Royal Palace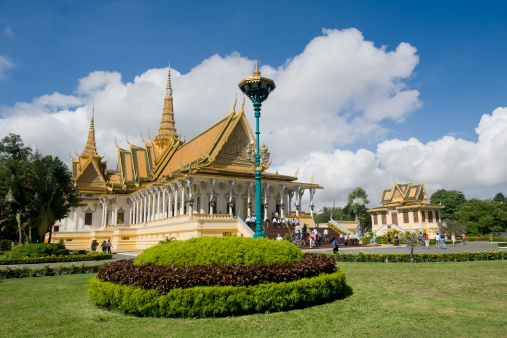 Phnom Penh's Royal Palace is a resplendent symbol of the Kingdom and has always been a popular tourist attraction in Phnom Penh. The King's living area is not publicly accessible but visitors are able to wander around the Silver Pagoda compound and beautifully manicured gardens.
Address: Samdech Sothearos Blvd, between Streets 240 & 184, Central Phnom Penh
Opening hours: Daily from 07:30 - 11:00 / 14:00 - 17:00
Conference visa requirements
Most visitors to Cambodia require a one-month tourist visa (USD 20), which can be applied for at Phnom Penh and Siem Reap airports, and also at land borders. Some visitors can also enter on a one-month business visa (USD 25).
Delegates are reminded to bring a passport photo if they wish to obtain a visa on arrival.
It is also possible to arrange a visa through Cambodian embassies overseas or an online e-visa (USD 25) through the Ministry of Foreign Affairs.
Arranging a visa ahead of time can help prevent potential overcharging at some land crossings.
Passport-holders from the following countries do not need a visa to visit Cambodia: Laos, Malaysia, Philippines, Singapore, Viet Nam, Thailand, and Indonesia.
Special clearance requirements
Applicants from Afghanistan, Algeria, Bangladesh, Iran, Iraq, Pakistan, Saudi Arabia, Sri Lanka and Sudan, except for those employed by the UN, IMF, WORLD BANK, ADB and other International Organizations, must provide a letter of sponsor from his/her company/local NGO, and a return air ticket.
Health information
When travelling to Cambodia, delegates are strongly encouraged to consult their doctor to obtain the appropriate vaccinations. Stay safe and healthy by practicing safe hygiene to prevent catching any illnesses.