APNIC 34 Fellows
| Full name | Economy |
| --- | --- |
| Kuenley Pelmo | BT |
| THARAKA PEIRIS | LK |
| Tanzia Siddiqui Choudhury | BD |
| Pyae Phyo Wai | MM |
| ISMAIL LISAM | MV |
| Ladislau Eustaquio De Sousa Saldanha | TL |
| Enkhbat Nyambaa | MN |
| Wasif Hussain Syed | PK |
| Budhi Krishna Adhikari | BT |
| Long Veasna | KH |
| Rhythum Kumar | FJ |
| Eoung Vichet | KH |
| Pralove Tandukar | NP |
| Vongsisouk THAMMAVONG | LA |
| Huy Vu Le | VN |
| Naing Winn Oo | MM |
Overview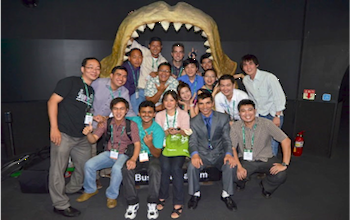 APNIC offers a limited number of Fellowships to allow members of the Internet community in developing Asia Pacific economies to attend APNIC Conferences.
APNIC Fellowships provide awardees with the opportunity to network with colleagues in the industry, attend training and seminars, learn about APNIC services and activities, and return home with new insights to aid them in their professional endeavours.
ICTs have the potential to enable women to become equal stakeholders in the growing technology economy. To promote the full participation and involvement of women with ICTs, especially at APNIC Conferences, APNIC promotes gender equality and creates opportunities for all. The APNIC Fellowship program encourages women in ICTs to participate and contribute to the APNIC policy development process.
The APNIC Fellowship Program targets key personnel from organizations building or providing Internet services within developing economies; in particular, those responsible for managing Internet resources (such as IP addresses, Autonomous System Numbers, and routing registry data). It is open to anyone in the APNIC region who meets the selection criteria specified below and is offered on an equal opportunity basis.
Additionally, Liaison, Training, Member Services, and Hostmaster staff present at the APNIC Conference will serve as mentors for the Fellowship awardees, imparting advice and experience that will provide a smooth transition into the APNIC community.
APNIC will issue a call for applicants through the APNIC and Conference websites, as well as the relevant NOG mailing lists at least three months prior to each stand-alone APNIC Conference. A selection committee will evaluate the applications and make their selections based on a mix of criteria including applicant experience and the applicant's desire to participate in the APNIC Conference.
Terms and Conditions
APNIC Conference Fellowship Terms and Conditions
Attendance
Fellows are expected to attend all sessions during the APNIC Conference. This includes but is not limited to, Tutorials, Seminars, Newcomers event, Policy SIG, Member Meeting, and all Social Events.

Participation
Be subscribed or subscribe as part of the application process to the APNIC-Announce or APNIC-Talk and APNIC Policy SIG Mailing lists.

Transportation
Fellows must book and pay for their own travel. Travel insurance is optional, and insurance fees are the sole responsibility of the Fellow. APNIC will not pay for travel tickets, including related passport or visa costs. Fellows must make their own arrangements regarding transport to and from the airport and hotel. This cost is included in the cash allowance as part of the award package.

Accommodation
Shared hotel accommodation will be booked by APNIC in a reasonably priced hotel close to the Conference venue. Fellows are responsible for any incidental room charges (including telephone calls, room service, and Internet connectivity, etc) and will likely be required to provide a credit card upon check in.

Required Travel Documents and Health Regulations
APNIC is not responsible for obtaining passports or visas for Fellows and is not responsible for any costs incurred by Fellows when applying for and obtaining a passport or Visa. Upon request, APNIC will provide an invitation letter in order to fulfil Visa requirements.

Personal Safety and Health
APNIC is not responsible for the personal health, safety, or belongings of Fellows.

Deferment
In the event a selected Fellow cannot attend the APNIC Conference due to unforeseen emergency circumstances, they may submit a written deferment request. APNIC will evaluate the request and may elect to resubmit the Fellowship application for consideration by the Fellowship Selection Committee for the next APNIC Conference

Program Evaluation
Fellows are required to complete a Post-Conference Fellowship Program Evaluation. A link to the survey will be provided and Fellows agree to respond within the stated deadline.

Publicity
Fellows agree to have their name, affiliation, and place of origin announced on the APNIC Conference website and mailing list announcements.

Failure to Comply with Terms and Conditions
Please note that if a Fellow fails to comply with any one of the above-mentioned terms and conditions of the APNIC Fellowship Program, APNIC reserves the right to determine the appropriate course of action.
Selection Criteria
Applicants must meet the following criteria in order to be considered for the Fellowship award:
Be a resident in a developing Asia Pacific economy, including Least Developed Countries (LDC), Landlocked Developing Countries (LLDC) and Small Island Developing States (SIDS), within APNIC's service region. A list of the economies included in APNIC's service region is available.
You (or your organization) do not have to be an APNIC Member to qualify but you must be responsible for Internet resource management.
Have an understanding of the importance of APNIC's responsibility in managing critical Internet number resources in Asia Pacific region.
Be employed in a technical or technical management capacity or be a university-level computer science/information technology administrator, professor or student or be a civil society or non-governmental organization professional whose mission coincides with that of APNIC.
Present a case for attending an APNIC Conference, including:

What you intend to accomplish or get out of attending an APNIC Conference;
How attending an APNIC Conference would help you in your work or study; and
How you intend to apply your APNIC Conference experience when you return home.

Previous recipients of APRICOT, or past APNIC Fellowship grants are not eligible.
Be willing to complete a Fellowship Program evaluation after the Conference ends.
Selection Process
A selection committee comprising APNIC staff from various units will evaluate the applications. The committee will choose the applicants that it believes are best suited for the Fellowship, taking into consideration a desire to provide opportunities to individuals from diverse types of organizations and geographical locations within the APNIC service region.
The selection committee has the right to select the candidates most suited to receive the award package, following the above-mentioned criteria, without any obligation to justify the results of the selection.
The decisions of the selection committee will be final and the selected applicants will be informed individually. A list of selected applicants will also be announced on the APNIC Conference website.
Applicants who are not selected to receive a Fellowship award for the current APNIC Conference are eligible and encouraged to apply for future APNIC Conference.
Application
Applications are now closed
Key Dates
Wednesday, 16 May: Applications open
Wednesday, 30 May: Applications close at 00:00 (UTC +10)
Tuesday, 12 June: First round offers published
Thursday, 14 June: First round offers close at 17:30 (UTC +10)
Monday, 18 July: Second round offers published
Friday, 22 July: Second round offers close at 17:30 (UTC +10)
Monday, 25 July: Final list published
Award package
Individuals selected for the Fellowship will receive the following:
Free registration for APNIC Conference and/or Workshops
Free attendance to all Networking Events
Shared hotel accommodation
Partial airfare, if applicable