Transportation
If your flight lands at Taoyuan International Airport (Taipei)
Taichung is a 55-minute train ride from Taoyuan International Airport (Taipei).


How to get to The Splendor Hotel from Taoyuan International Airport
Step 1: From Taoyuan International Airport to Taiwan High-Speed Rail (THSR) Taoyuan Station

You can take the airport MRT or a shuttle bus (TWD 30 cash only) operating line at the Airport Terminal 1 Station or Airport Terminal 2 Station.
Get off at the THSR Taoyuan Station
(For information updates, please visit the Metro Taoyuan website).
https://www.tymetro.com.tw/eng/index.php

Step 2: Then take the High-Speed Rail from the THSR Taoyuan Station to the THSR Taichung station
Step 3: Upon arriving at the THSR Taichung station, you can either:

a) Take a THSR shuttle bus

Come out from Exit 6 to take the THSR Shuttle Bus 159 at the bus platform and get off at the SOGO Dept. Store (Meicun Rd) (Bus route direction: THSR Taichung—Taichung Park)
The bus service operates from 06:35 (UTC +8) to 22:00 (UTC +8) and departs every 15 minutes. It will take about 30 minutes to reach Taichung city.
Guests may pay the shuttle fee in cash if they do not have either the Easy Card or iPass. The full fare tickets of the THSR shuttle buses are TWD 25.

b) Transfer organized by Splendor Hotel
Alternatively, you can book the transfer with the Splendor Hotel when you book your accommodation on line with the Splendor hotel or Park Lane Inn.
c) Take a taxi
It takes around 20 minutes to reach the hotel by taxi from THSR Taichung station. The taxi fee will be approximately TWD 330.
Or, you can take a taxi from Taoyuan International Airport to your Taichung hotel (please check the costs with the driver first!).
d) Complimentary shuttle bus
Shuttle Bus to / from Taichung High Speed Rail (HSR) Station to Splendor Hotel Taichung
Please go to the bus area and look for an APNIC 44 sign
Complimentary service provided by Taichung City Government
On Arrival at the Taichung High Speed Rail Station to Splendor Hotel
Date
Time
6 September
13:30
14:45
16:00
17:15
18:30
11 September
12:15
13:30
14:45
16:00
17:15
18:30
19:00
19:40
For Departure from Splendor Hotel to Taichung High Speed Rail Station
Date
Time
12 September
12:00
14 September
18:30
19:00
19:30
15 September
07:30
Taichung City Government is requesting that you book, prior to your departure, your shuttle bus online via the link below:
https://www.twnic.net.tw/apnic44/bs.html
---
Guidance service for shuttle bus passengers at Taichung High Speed Rail Station to the Splendor Hotel on Sept.6 and Sept.11
Guidance service staff for shuttle bus will wait for the passengers with a sign on the exit 1B on the 2nd Floor. After gathering the passengers, the guidance service staff will bring those passengers to the exit 6 on the 1st floor to the shuttle bus (the 7th, 8th, 9th, and 10th bus platform).
Station Floor Map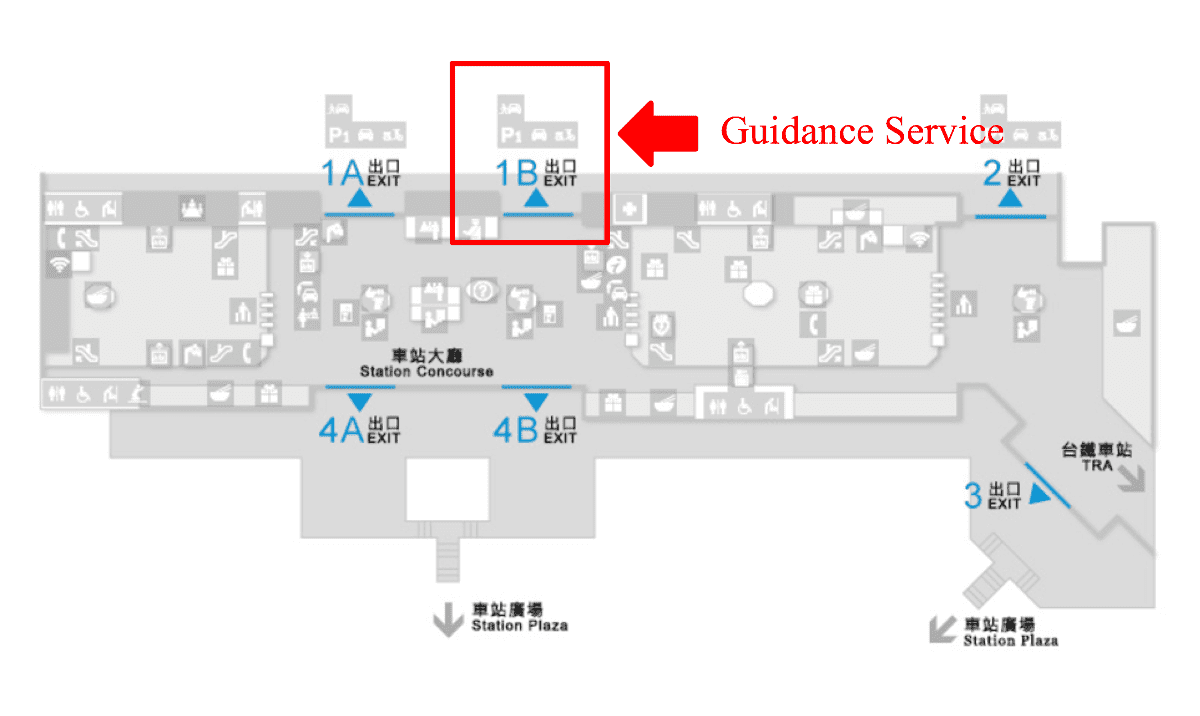 ---

If your flight lands at Taichung Airport
Alternatively, you may choose to travel to Taichung International Airport International airlines, such as Mandarin Airlines (AE), HK Express (UO), Cathay Dragon (KA), EVA AIR (BR), T'way Airlines (TW), VietJetAir (VJ), and Tigerair Taiwan (IT) have routes to Taichung.

Cross-Strait airlines such as Mandarin Airlines (AE), UNI AIR (B7), China Eastern (MU), Far Eastern Air Transport (FE), Lucky Air (8L) have routes from Mainland China.

More details can be found on the Taichung Airport website.

Please note that flight schedules may change at Taichung Airport, please check with your airline and the Taichung Airport website before booking your travel.


For further information, please see:

Taichung Travel Net
http://travel.taichung.gov.tw/en-us

Metro Taoyuan website


References:
Taichung Travel Net
The Splendor Hotel Taichung
Metro Taoyuan