Services
Member Services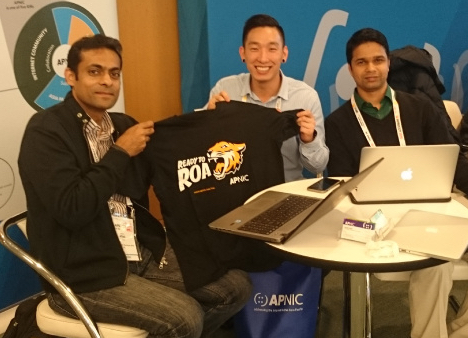 Visit the Member Services Lounge to have your questions answered by our friendly APNIC Helpdesk staff.
APNIC helpdesk will conduct ROA sessions to help Members explore Resource Certification. Live demos, Q&A and trouble shooting will be available at the session. Join us for a ROA session and collect your free ROA t-shirt, while stocks last.
Our communication team will also be on hand presenting social media and blogging sessions to help you share your stories and experiences.
Visit us and go in the draw to win exciting prizes.
Hostmaster Consultation
Register your Hostmaster Consultation
Speak to APNIC Hostmasters directly about your resource request issues and concerns, such as:
How to request IPv4, IPv6, and AS numbers from APNIC
How APNIC Hostmasters will evaluate your resource request
Current policies for IP and AS number management in the APNIC region
How to maintain and update your resource registration record in the APNIC Whois Database
Hostmaster Consultation sessions are face-to-face and held in a closed room to maintain privacy and confidentiality.