APNIC signs MoU with SPC
During the Pacific IGF recently held in Noumea, APNIC and SPC established a MoU.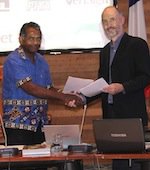 APNIC and the Secretariat for the Pacific Community signed a Memorandum of Understanding to to confirm mutual collaboration in the area of Internet related issues, particularly pertaining to IP addressing and IPv6 deployment. The agreement was made during the inaugural Pacific IGF in Noumea, New Caledonia on 10 April 2011.