Social event
Get ready for the Social!
Are you ready to mingle, play and have some fun!
Join The Remote Game where you can demonstrate your competitive skills, show your team spirit and great sense of humour (you will be allocated into a team). To get the most out of the session, please join a few minutes before the sessions begins by logging in and checking your audio and video.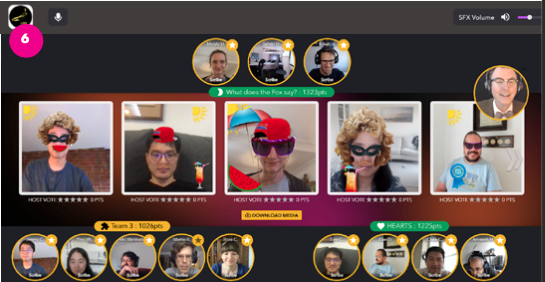 What is The Remote Game?
It's easy to play and understand. This ultimate hangout includes:
Trivia
Brain burners
Pictionary
Fact match
Name that movie
GIF battles
Lip sync challenge
How to join
Stay tuned - the link will be available in the schedule page. Please note, you will need to log in and be registered to access the game.
Please arrive FIVE minutes early so we can start on time.
Game date and time: 14 Sep 2021 at 16:30 (UTC + 8)
Duration: 45-60 mins
Requirements
🎧 Headphones (Required! Earbuds or AirPods are fine).
💻 A laptop or desktop with web camera (Phones are not supported).
🤫 Quiet area away from other players or background noise.
❌ Close all other browser tabs and applications.
📡 A good Internet connection.
✔️ Use the Chrome, Firefox, or Edge web browser.
🔓 VPN can be incompatible with the event. Plan accordingly.
Do I really need headphones?
Yes. Unlike traditional video calls or conferences, your host will play music and videos, and you will spend very little time 'muted'. To prevent sound feedback and echoing for other players, everyone must use headphones. AirPods and earbuds are fine. Please have them connected before logging in.
Troubleshooting
Refresh your browser window.
Use Chrome if you aren't already.
Close all other applications and tabs.
Try an incognito browser window.
Disconnect from VPN.
Reboot your computer.
Connect using an iPhone and we can troubleshoot from there.
Information on detailed troubleshooting and tech requirements is available
Game on!