APNIC Policy
An election for the position of Chair was held at the Open Policy Meeting on Wednesday, 1 March 2017. Two Co-Chairs were also appointed by the new Chair.
Congratulations to the new Chair and Co-Chairs.
Chair:Co-Chairs:
Proposals under discussion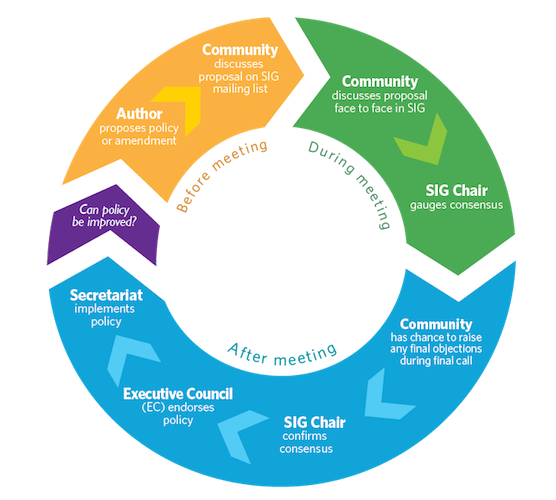 Translated summary of proposals
The policy proposals to be discussed at APNIC 43 have been translated into the following languages.
How to participate
Register for CONFER to be able to participate in the Consensus Call
https://www.apnic.net/community/policy/process/how-to-participate/confer
As the APNIC Policy Cycle is active before, during, and after each Open Policy Meeting, it is important to participate during all phases. Before and after the meeting, discussion about policy proposals happens on the Policy SIG mailing list. During the meeting, you can participate in the policy discussion in person by attending the meeting, or use the remote participation facilities available on this website.
How to participate in the policy process
Consensus Policy Making
IP addresses and AS numbers are shared resources, available for use by anyone who can demonstrate the need for them. APNIC policies ensure these resources are distributed fairly and consistently across the whole Asia Pacific region. Proposed policy changes are discussed in the Policy SIG.
APNIC policies are decided by the Asia Pacific community in a consensus decision-making process that is:
Links to other resources